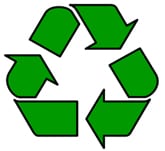 Help HEPCO go Green by participating in our
Credit for Condenser Plugs Recycling Program
Send us your expired or unused stock of tube plugs and earn credit towards new plugs.
They don't even have to be ours!
They can be any plug; Tapered Brass pound-ins, 2 piece ring and pin, Rubber, etc.,
You can ship them to us for Recycling and we will issue credit on a future Hepco plug order.
Here's how it works;
1) Collect your unused plugs or expired stock plugs
2) Ship to: Hepco 55 Industrial Park Rd. Hingham, MA 02043
3) Receive credit on a future Hepco plug order
4) Hepco will recycle the metal and plastic parts of the plugs
It's that easy to go GREEN! Have questions? Give us a call at 800-472-8484
Heat Exchanger Products Corp manufactures the most reliable silicone condenser tube plugs on the market today for
several industries, including: electrical generating plants both nuclear and fossil, pulp and paper and petro-chemical.